I've mentioned time and time again that I don't have a large wardrobe, but I think you'll agree that I am not lacking in outfit choices.  And the reason I have a wealth of outfits to choose from in my limited collection is because I make the absolute most of the items I have, not only by mixing and matching them, but by using the most powerful styling tool I know – layering.  But layering doesn't just make it easier to maximize a small closet, it's also a great way to add interest and personality to a look, can be a great way to highlight your assets and balance your proportions and most importantly, will keep you warm!
However, despite all the brilliantness that layering offers us I know that many of you don't do it and find it a tricky styling technique to master – it can sometimes look bulky, scruffy and unflattering, and often feels uncomfortable too. So I've compiled a short list of pointers to help you master the basics of layering and am sharing some of my favorite layering looks to give you some ideas!

HOW TO MASTER THE BASICS OF LAYERING
You need a good selection of lightweight layering tops to draw upon, in a selection of styles and colors to fit your collection's color pallet. – I have a selection of long, 3/4, short, and sleeveless tops in a variety of necklines – slash/turtle/scoop – as well as a good selection of camisoles that are predominantly in black (obvs!). I also have a few pattered pieces too such as stripe and floral prints.
Start with a basic tee and build up from there. Maybe add a piece of knitwear, a jacket, then a coat. The idea with layering is that you can add and remove items as the temperature change so make sure the outfit still works if you need to take off a layer or two!
Take your shape and size into consideration. If you're petite, layering lots of big bulky pieces will likely swamp you and make you look bigger than you are…and probably feel a little frumpy. Instead, layer lighter weight pieces with just one or two bulkier items.
I also recommend that if you're wearing a chunky, bulky or oversized item on the top half, to keep what you're wearing on the bottom half more fitted…and vice versa. It's far more flattering and instantly looks chic!
Layering is the best way to keep warm in the winter but if the look of layering isn't for you, keep your layers hidden. A couple of light weight thermal tops worn under fine knitwear will keep you warm without the look of layering. Or hide a light weight cardigan under a tailored jacket. I'll often do this if I'm with clients and want to look a little more polished in freezing temps.
If you want to layer items in the same color, prevent the outfit from looking flat by combining a mixture of textures – a favorite combination of mine is faux fur, leather and denim.
If you're new to layering and are mixing different lengths and textures it might be wise to avoid throwing different prints into the mix as well as there's a risk you'll like you got dressed in the dark.
Sleeves can often be uncomfortable when layered and even if the sleeves start out in the right place they'll often move around and bunch up with wear, especially if you're layering shirts and blouses under sweaters. A good way to combat this is to turn the cuff up and over the sleeve of the sweater to keep it in place, like this.
Use layering to highlight your assets and balance your proportions. For example, if you have a broad torso and narrow hips, layer a long-line vest over your outfit to draw the eye in and narrow your torso.
A great way to tie a layered outfit together is to match the color of the layering top to the color your wearing on the bottom half, as I have done here. It also creates a column that's slimming and lengthening which is a particularly good styling tip if you're petite.
OUTFIT INSPIRATION FOR LAYERING
Layer a long-line vest UNDER a coat:
This is a brilliant way to get the warmth of wearing two coats without the bulkiness of two sleeves. Don't worry if the two pieces are different lengths, I actually think it looks better when they are.

Layer a long-line vest OVER a coat:
Yep, just a little switcheroo and now my vest looks like it has contrasting sleeves!

Layer a faux fur gilet under a coat:
Aside from being cozy warm, it's a great way to update an old coat.
Mix contrasting, light and heavy textures:
It's one of the chicest things you can do, so embrace the cool temps and layer a gorgeous chunky knit over a pretty, light weight dress. Finish the look with a pair of booties. If the dress is long and tights aren't nearly warm enough, hide a pair of leggings underneath.


Play around with the proportions and layer contrasting lengths.
Layering a cropped sweater over a blouse or button up, as Terra has done so brilliantly here, is one of my favorite layering tricks: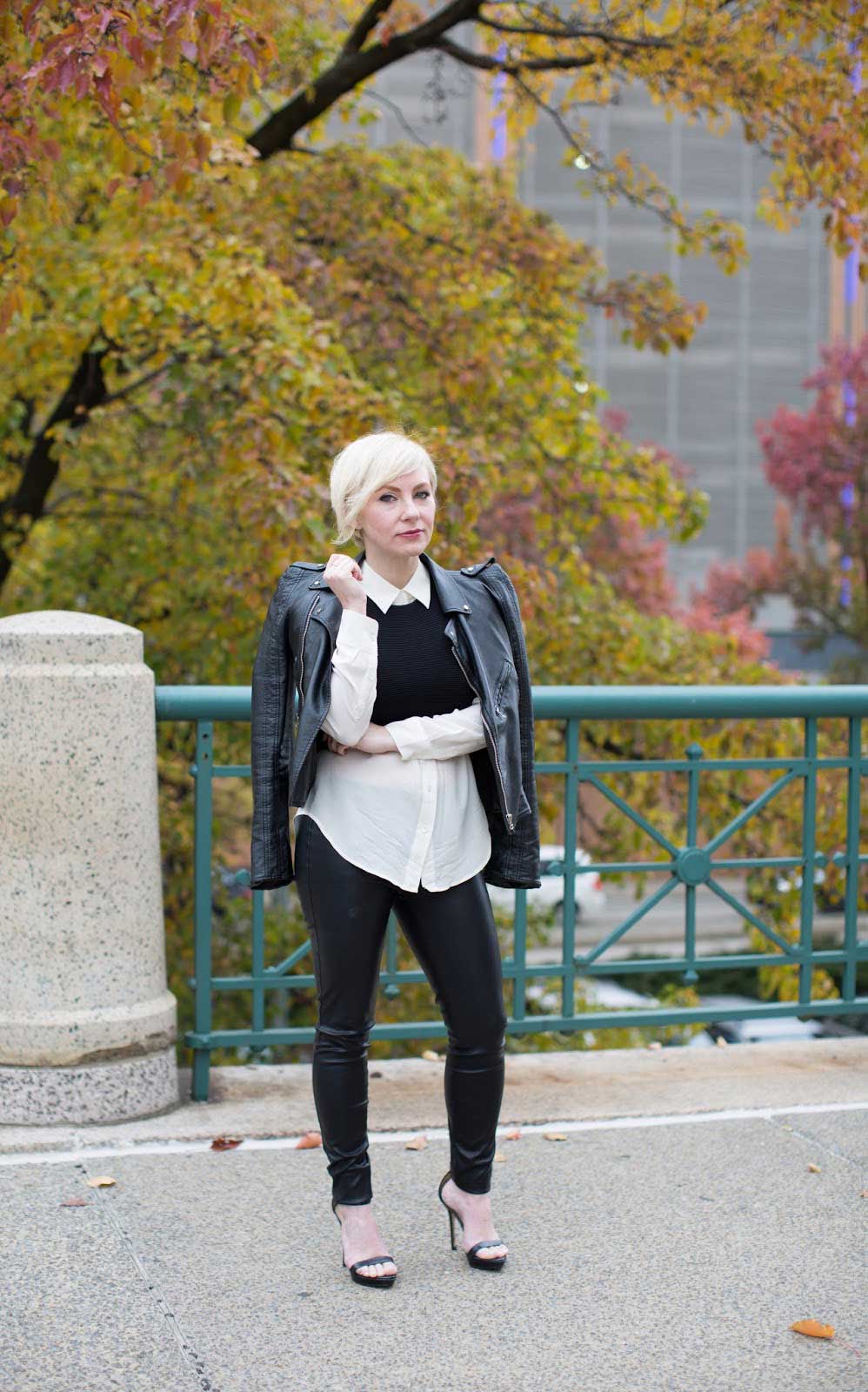 Button ups are a great piece to layer with.
They can be worn under sweaters, under jackets, over vests, tees, dresses and jumpsuits. They can be buttoned up, left undone, or tied to add shape and interest…


Mix the seasons:
I love the transition from one season to the next, it gives me the opportunity to mix pieces that wouldn't normally get to hang out. I'll wear jeans under my summer dresses and skirts, layer my favorite leather jacket over a sun dress and team a sweater with a light weight dress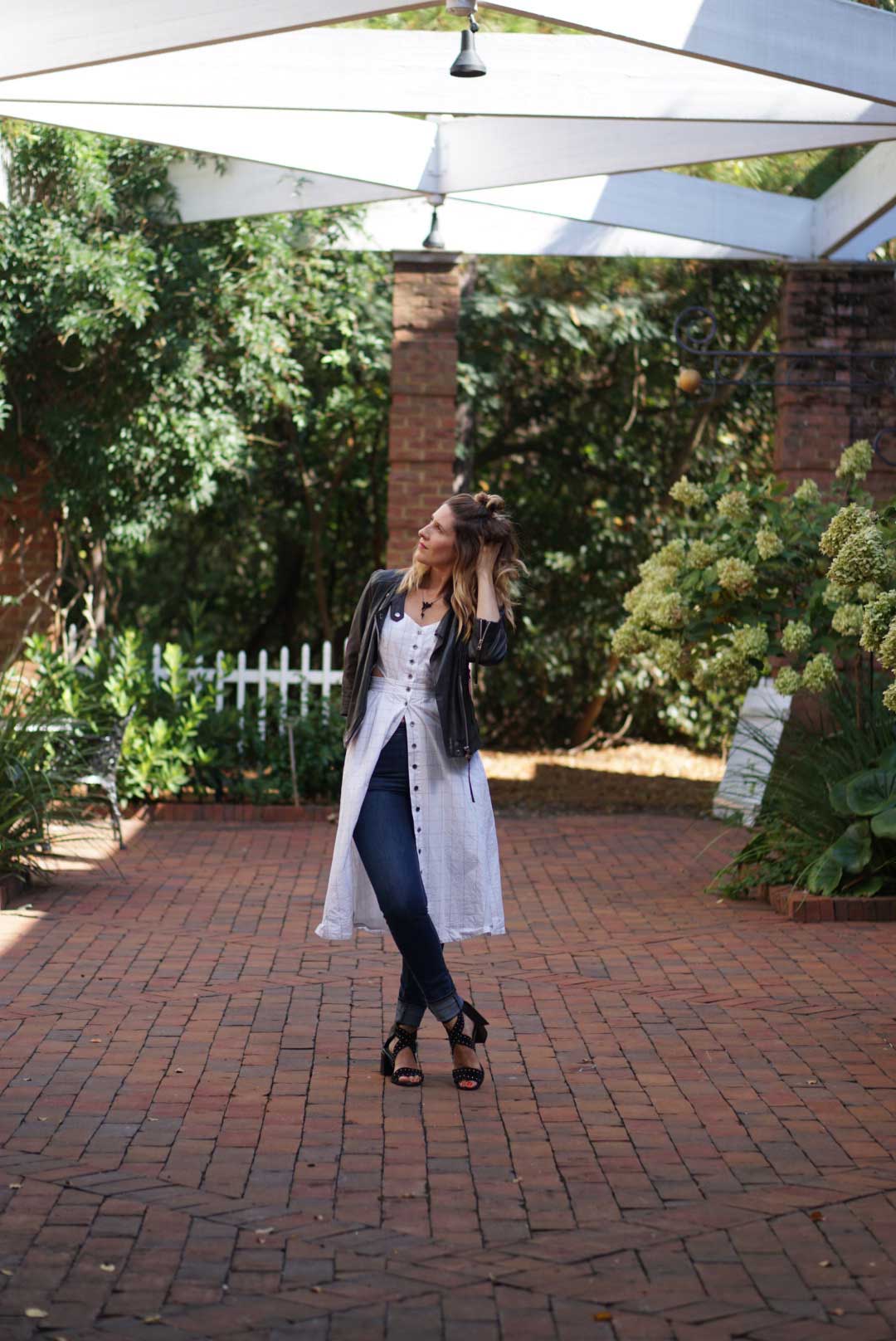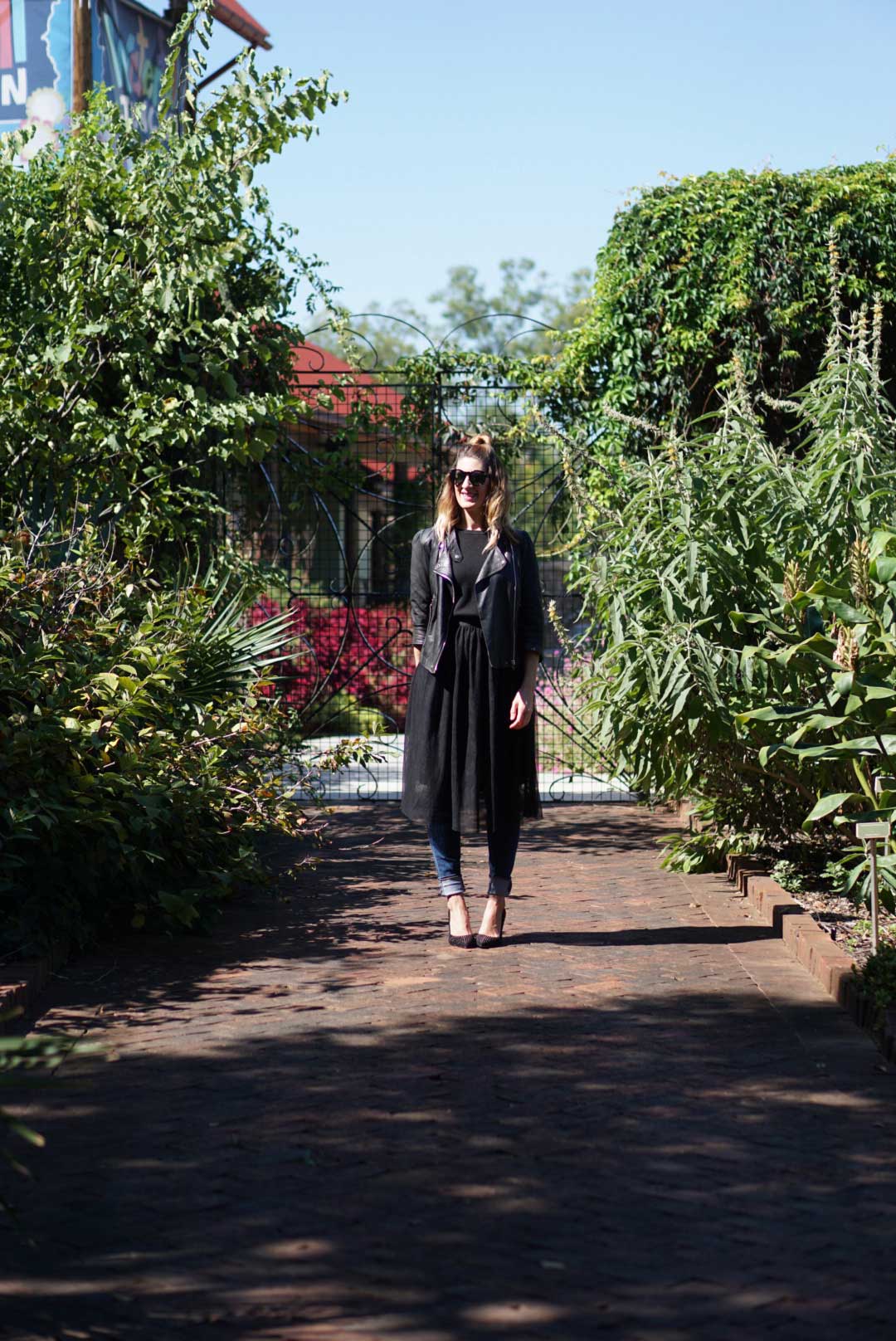 Tie a tee shirt over a dress to wear it casually:
This is one of my favorite ways to dress my smarter dresses down for everyday.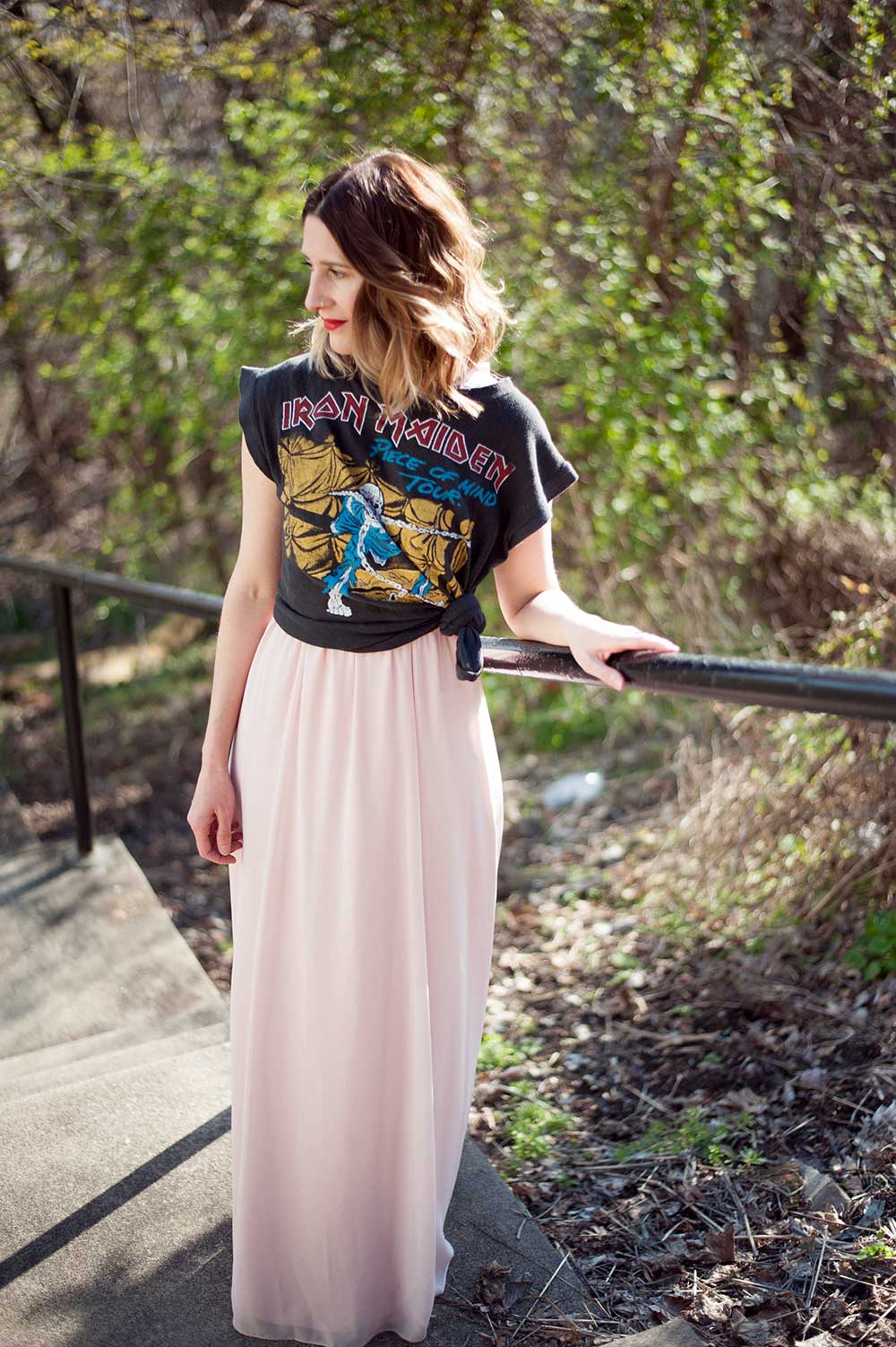 Layer warmer pieces under a dress:
I like to layer polo necks and turtle necks under dresses, it's another great way to take a dress from night to day.
Double up on coats.
A light weight coat will sit perfectly under a warmer, winter coat. I like to layer my leather or denim jackets under a faux fur coat – the mix of textures is wonderful and it makes for a really warm outfit, too!

And that, my friends is how I like to layer! If you're looking for more ideas you might want to check out my Pinterest board: How To Layer Like a Pro, I regularly pin to it so it's worth following along.
And if you liked this post, I think you'll like some of my 3 ways to wear like this one where I show you how I like to layer a dress with pants and jeans.